Recently, LED strips are seeing extensive residential, commercial, and even industrial use. Extensive use means your strips get exposed to all forms of hazards. Luckily, you can always use these profiles to shield your awesome lighting projects. 
1. What Are LED Aluminum Channel?
Aluminum channels can be essential for your LED strip lighting project. You install these extrusions as a protective casing for your strip lights. Aluminum channels shield your strips from environmental factors like dust and debris. These profiles can also boost your lighting aesthetics while dissipating heat.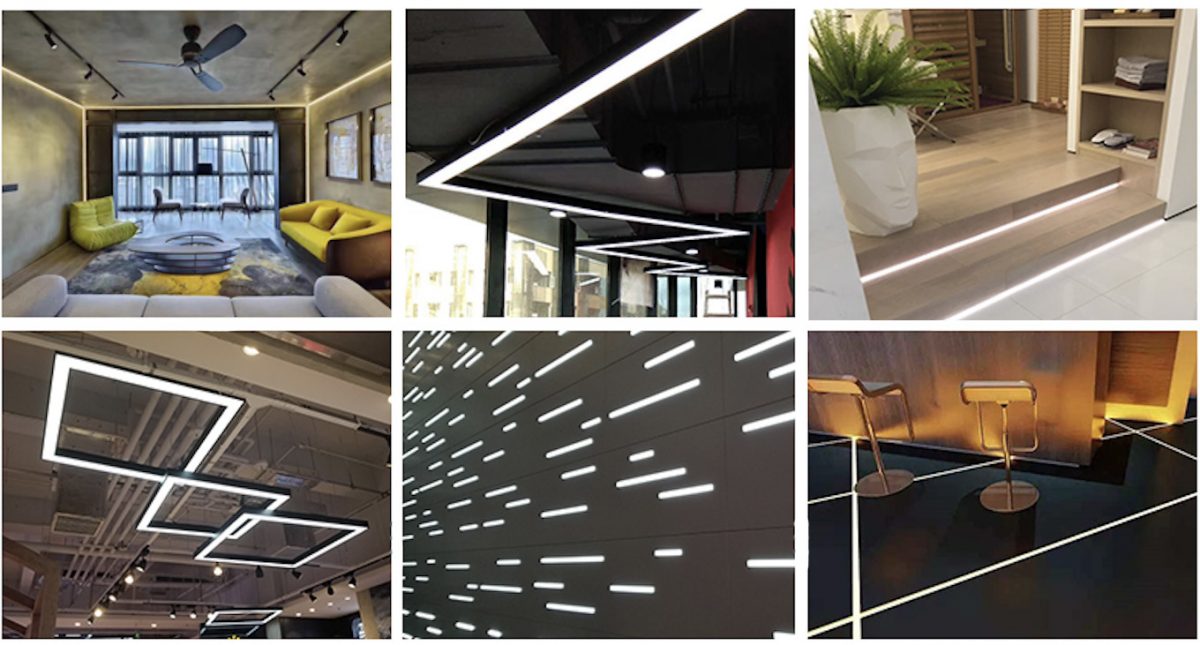 LED strip channels have two other vital functions apart from acting as a safeguard.
2. What Are The Typical Types Of LED Strip Channels?
LED strip channels come in many sizes, shapes, and depths. One of the ways you can classify aluminum channels is by profile or mounting type. The profile you'll ultimately choose depends on your project. Are you looking for general-purpose lighting? Grab a surface-mounted profile. Would you need to illuminate tight corners? Opt for a corner-mounted profile.
Myledy 200+ stylish LED profiles for your selection.
You can also classify channels by application features. You can have waterproofed LED profiles for ground lighting or optic lens LED profiles to get different lighting beam angles. If you need to install on curved places, you can also opt for flexible profiles. Check out this handy guide to learn more about the different types of LED strip channels.
3. Do Aluminum LED Channels Help with Heat Dissipation?
Yes. Aluminum profiles can help reduce the heat produced by your LED strips. Aluminum is a metal that's ideal for thermal management and heat dissipation. Its properties allow for excellent heat conduction and reflection. In fact, aluminum is the primary metal used to manufacture heat sinks and heat exchangers.
LED lights convert 10% – 40% of their electrical energy into heat energy. Flexible LED strip lights will generate heat as well. Prolonged heat can result in color differences and lumen depreciation. It can also impact your strips' lifetime.
So, it's essential to install a heat dissipator to ensure optimal LED performance. Aluminum channels can act as a heat dissipator while safeguarding your strips from the surroundings.
4. How Do LED Strip Channels Affect Light Diffusion?
The primary effect of light diffusion comes from the diffuser cover. LED aluminum channels often come with these diffusers already installed. These diffusers are where light passes through, blocking or alleviating the light dots and creating better light diffusion.
Diffused light doesn't have the same intensity or glare you see from direct light. Instead, it is softer, more uniform, and doesn't cast harsh shadows. Diffused lighting can make a more functional and aesthetically pleasing light source.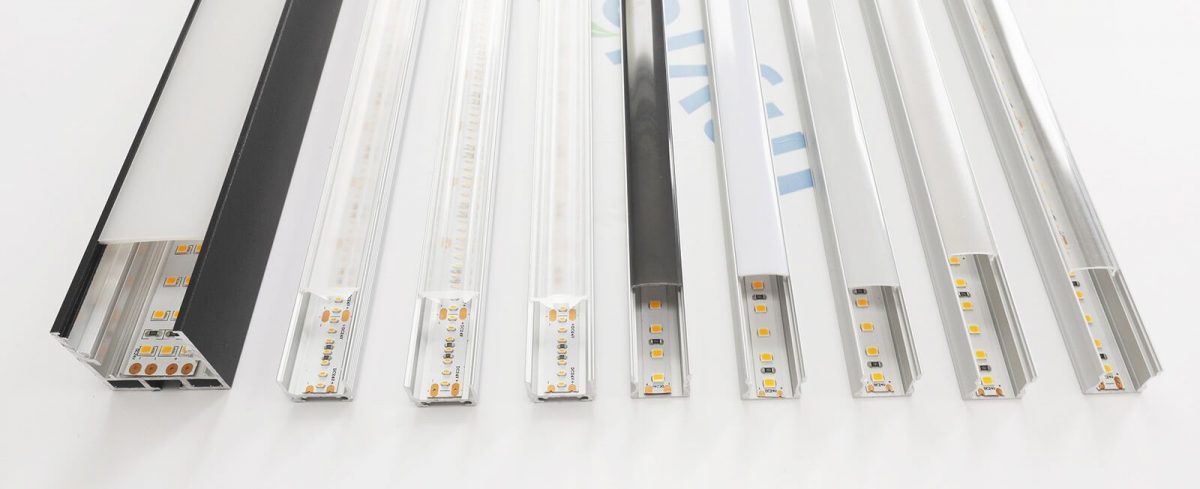 Myledy offers a variety of practical diffusers that increase your fixture aesthetics while providing some cool lighting effects. Want to learn more? Check out this guide.
Whichever type of diffuser you choose depends on what you want out of your fixtures. For example, transparent and semi-transparent diffusers are great for high-traffic commercial settings. For cozy locations like your personal workspace, you can opt for milky or opal diffusers for more ambient illumination.
Each diffuser produces different impressions and visual effects. You can also combine several diffuser types to create a unique lighting fixture.
You must consider these two factors when improving your fixture's light diffusion:
➢  The Height of the LED Channel
The higher the distance from the strip to your channel diffuser, the better the light diffusion becomes. For example, if you install 120-LED/m strip lights into the LED channel LD-1205, you'll see the LED dot. But if we install it into a higher channel LD-1202, you get a more uniform light diffusion.
➢  LED Strip Density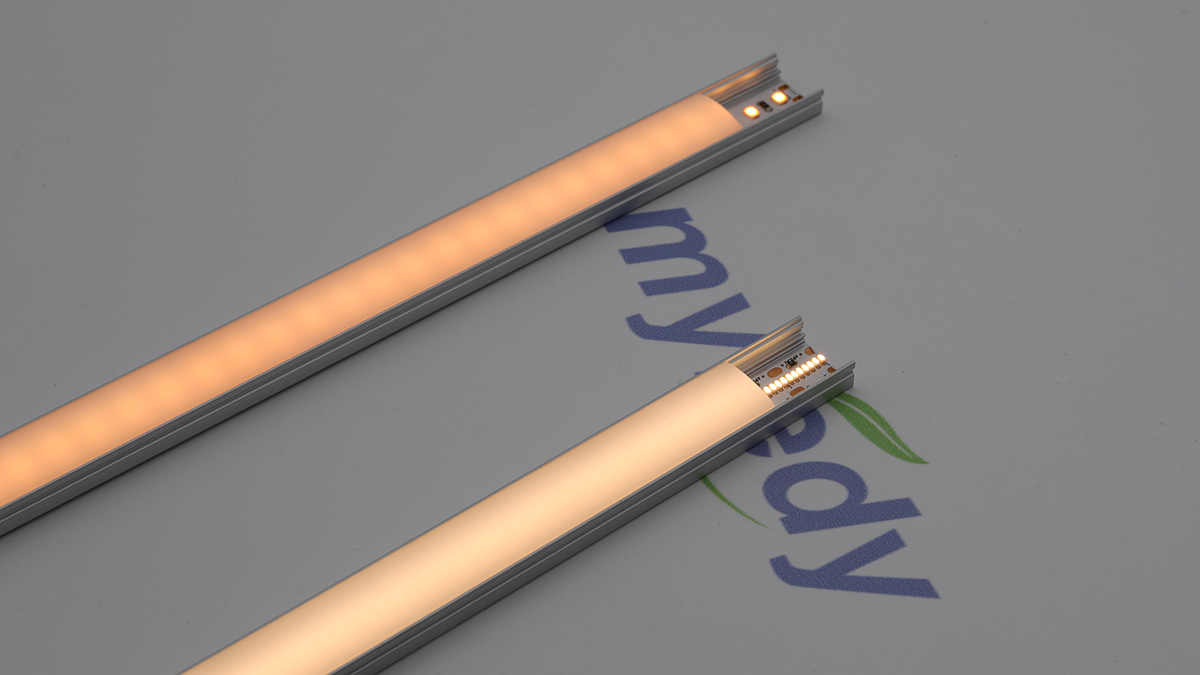 The higher the LED density, the better the light diffusion. You'll see the LED dots when you install a 120-LED/m strip into the low height profile LD-1205. If you want to achieve a uniform light diffusion with LD-1205, use a higher density strip 280-LED/m. See the comparison picture below.
Height and density go hand in hand to increase light diffusion quality. And you must review these factors when choosing channels for every project.
5. Situations Where You Don't Need Aluminum Channels
There are certain conditions where you may not need to install aluminum channels. Let's look at each scenario where you may be better off not purchasing these add-ons.
Low-Power LED Strip Lights
Light strips with power less than 10W will emit less heat. And even if you don't install an aluminum profile, it will not affect its life.
For Installations With Indirect Glare
Not every strip installation is intended to shine directly at occupants. Fixtures such as cove lighting that radiate away from the occupants and low-power LED strips don't need a channel.
6. What Are The Disadvantages of Aluminum Channels?
Aluminum channels boast several advantages for your strip lighting project. But what about the disadvantages? Using channels may also have some drawbacks, and we'll look at each one.
➢ You Pay Extra Costs
Setting up your project may have already cost you quite the sum. By including channels on your list of requirements, you'll have to pay a lot more. Channels are effective, but they're not necessarily cheap. Still, you get what you pay for.
➢ Diffusers Affect CCT and Lumen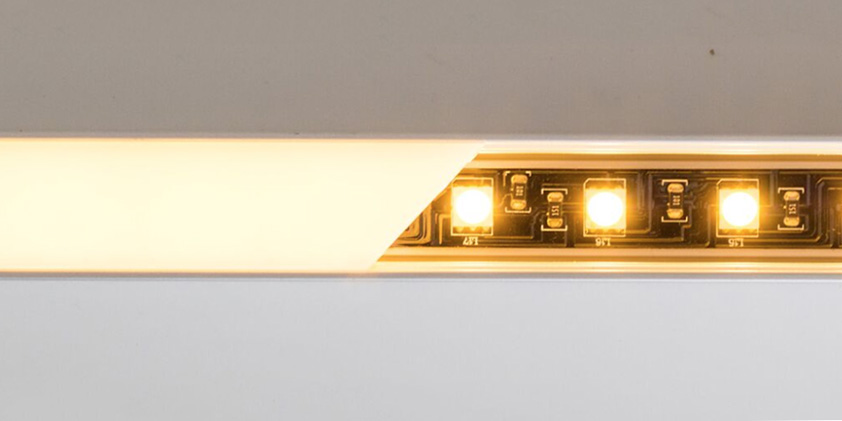 As we know, channel diffusers can impact the glare of your strips. And they can affect color temperature as well. A diffuser can reduce CCT by as much as 300K.
 The transmittance rate of the diffuser range from 50%-90%, So they'll reduce the lumen output accordingly. You may have to install a higher power strip lights to achieve the desired lumen output
7. What Makes A Great-Quality LED Channel?
We've mentioned the benefits of aluminum channels for your fixtures. Now, let's find out what factors can increase the quality and efficacy of your LED channels.
The best aluminum alloy for an LED profile is the 6063-T5./
The thicker the aluminum profile, the better it can dissipate heat. But, thicker profiles cost higher.

The anodized layer of the aluminum profile should reach 8-13 microns. The thicker the outer aluminum oxide layer, the harder it is for your profiles to disfigure. A thick surface layer also has better corrosion-resistant qualities.
Using high-quality diffusers for your channels ensures excellent performance and long service life. Keep in mind the following specs when shopping for diffusers:
Your ultra-thin cover plates must have a thickness of 1.2mm.
Large cover plates must have a thickness of 1.5mm.
The raw materials used for the cover plates must be robust, like those from Panlite or other branded materials.
Watch out for those covers made from recycled materials. They're not very sturdy, and they deteriorate faster. Our lineup of exceptional diffusers here at Myledy comes from the highest-quality raw materials. We also ensure that each unit has the correct specification for optimum performance and service life.
Lastly, you'd also want to check if the diffuser, clips, and end caps are a good fit for your aluminum channels. Make sure to test them out first. Do they fit easily into your channels? Do you see any gaps? Compatibility is essential, and you must not overlook it.
8. How to Ensure Strip Light-Channel Compatibility
The inner dimensions of your channels must be suitable for your strip lights. So, always consider the internal width and height of your channels. For instance, waterproofed strips have an outer waterproofing silicone. This makes them 2 mm wider than standard strips. Your channels must have an inner width allowance to house these strips efficiently.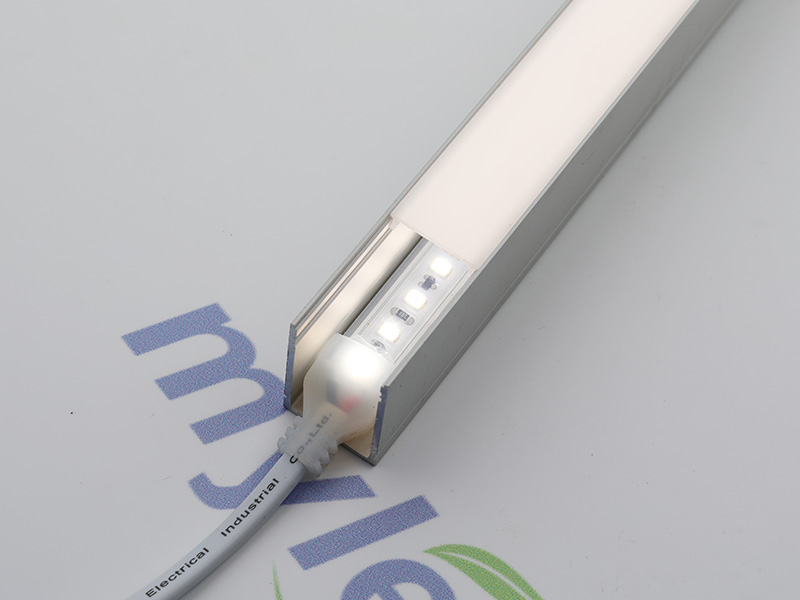 You can also dictate your strip's arrangement by your channel's inner width. If you're after a brighter output, you can opt for mounted channels wide enough to accommodate two strips side by side.
For waterproof led strip lights, we need to confirm if the width of the end cap is smaller than the inner width of the profile.
LED strip lights also come in solderless variants. Solderless strip lights tend to have connectors wider than the strip lights themselves. For these variants, you must consider the width of the connectors when choosing a suitable channel. You can either opt for a slimmer LED connector or select a wider channel.
Aluminum channels have a lot of benefits for your LED fixtures. And often, their benefits outweigh their drawbacks. Getting the right housing for your strips can help increase their service life. These channels also allow you to enhance the visual appeal of your lighting design. Want to improve your lighting output further? Modify your channel with a suitable diffuser.
You can find high-quality channels, diffusers, and more here at Myledy. We're committed to making sure that you get the most out of your lighting project. We offer a diverse range of designs and shapes for almost every application. Check out our collection if you haven't yet!