With the hot sale of LED strip lights, LED profiles, as a necessity, are more and more widely used in various lighting solutions. It not only protects and heat-dissipate LED strips, also makes the light more uniform linear, and creates stylish shapes such as ring circular LED profile.
You can get more information and select 100+ aluminum profiles with different cross-sections in Myledy LED profile buying tips.
After confirming the aluminum profile for your lighting project, how to choose the right led profile diffuser(profile cover) to achieve the most satisfactory Lighting effects? We know different designs of diffuser give the lighting a different look and light output. In this article we will comparison of different profile diffusers/covers to help you make the best decision.
1. Compare with different material of profile diffusers.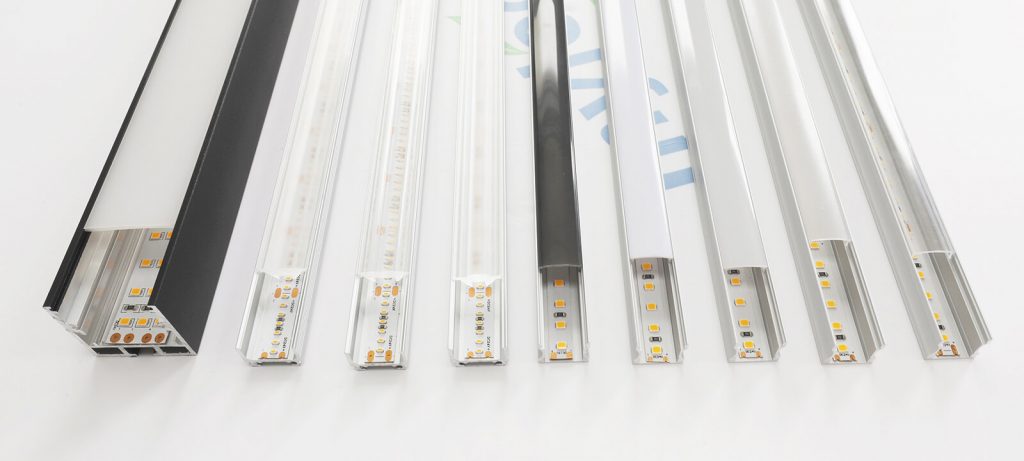 The main materials of LED profile cover in market are PC, PMMA, Silicone and PVC. The profile diffusers/covers of different materials not only play different roles in anti-scratch, anti-extrusion and anti-aging, but also have an impact on the effect of lighting. Here let's learn about the pros and cons of each LED profile cover material.
PVC – It is quite flame resistant and has stiffness, resistant to alkalis and acids. The price of PVC is very low, but the moisture absorption and heat resistance are poor, and very easy to turn yellow after using it for a period of time, so fewer and fewer technicians choose PCV as a lampshade.
PMMA – also Acrylic. It is hard and scratch-resistant, has good transparency, insulation, mechanical strength and easy to process. But low chemical resistance and not very resistant to impacts.
PC – Polyvinyl Chloride. It is characterized by the greatest resistance to alkalis, acids and gasoline. It is flame-retardant, scratch-resistant and has very good optical properties. However, it is not resistant to moisture – it will become brittle.
Silicone – It is flexible, flame retardant, friction resistant and very environmentally friendly. Silicone profile diffuser is easier to install, but lower light transmittance and higher price than PC. As a lampshade, it is generally used for circular aluminum extrusion.
2. Compare With Different LED profile diffusers/Covers.
After we are confirmed about the lighting effect we want to achieve, Here we make a comparison of the effects of different Myledy profile diffusers for your better decision.

Each of the above profile covers plays its role in LED lighting which isn't only the look of the installation itself when the lighting is OFF but each type diffuses the light in a different way when the lighting is switched ON.  Various profile diffuser lenses work with the LED extrusions to make  magical lighting effects to your lighting projects. These diffusers vary from clear, semi-frosted to opal, or milky designs and black that can diffuse light and eliminate hotspots.
You can get more information from the video by Myledy .
Transparent Profile Diffuser/Cover
95% transmittance rate. the brightness of led strip have almost no loss. However, the led strip is visible under the diffuser, these diffusers are mostly used for kitchen counter lighting, shelf and showcase lighting. Where we can't see the led profile, and the light is not disturbing.
---
Frosted (semi-transparent) Profile Diffuser/Cover

85~90% transmittance rate, the decrease in brightness is not very large. However, the led strip is mainly covered, and they reduce hotspots significantly.
---
Opal Profile Diffuser/Cover
About 75% transmittance rate. It's sort of opal white coating that helps diffuse the light evenly. And can maximizes hotspots.It's decorative when switched off, as we don't see into the profile, the led strip is not visible.
---
Milky Profile Diffuser/Cover

65~70% transmittance rate. A milky diffuser is more opaque than opal diffuser and eliminates hotspots. It doesn't really give the max light output, and you may install brighter led strip to increase the brightness.
---
Black Profile Diffuser/Cover

About 60% transmittance rate. it completely hides the light sources, so the LED channel looks like one single LED channel track. It's also decorative when switched off, just like a circle of black lines.
---
Silicone Profile Diffuser/Cover

70~75% transmittance rate. It's soft and flexible, allows you to mount it on some curved or ring circular led profiles.
---
Lens Profile Diffuser/Cover



        It's an optical lens design of transparent diffuser. Which narrow the 120-degree beam angle of the led strips, to 10 degrees, 30 degrees and 60 degrees. So it will light a smaller surface, in exchange for higher brightness there.
After above, it is clear to see that if you use different profile diffusers, the visual effects will be significantly different and affect the brightness of the light. The clear/transparent or frosted diffuser provides bright and sharp lighting, the opal or milky diffuser increases the soft and delicate lighting effect, and the dark or siliceous diffuser has a special purpose.
What does this mean for users?
Therefore If you high bright lighting, such as offices or the business sector, you should choose clear(transparent) or frosted diffuser; if you want uniform light, such as living room, restaurants or other accommodation facilities, the opal or milky profile diffuser will be better solution. However, If using low transmittance diffuser, you may need to choose higher luminance LED strip lights.
LED lighting is not only about choosing the right strip, and the effect also depends on the lampshade. The conscious purchase of satisfying high-quality products will make your whole lighting projects much more easier. So make sure you match all the pieces of equipment.