The Ultimate Guide to Aluminum LED Channel
If you're considering installing aluminum LED channels around your home or business, you've come to the right place. This exhaustive guide will tell you everything you need to know about these modern and highly efficient lighting structures. LED channel lights have been around for a while, but they are truly making their mark on interior design right now.
We've come a long way in lighting, and today discretion is everything. You can't have the same intensity and position of lighting at all times. The lighting needs differ depending on the time of the day and the use of the space.
This is where LED channels come in as they use a smaller surface area and may help create multiple levels of lighting in a room. For businesses welcoming walk-in customers, light is even more critical.
An LED channel is a structure that houses LED strip lights, which is why it's often called an LED profile, LED extrusion, LED housing, or simply an LED strip light profile. It adds aesthetic and functionality to lighting in an area. These lighting structures are unobtrusive and help control the amount of light needed in a space.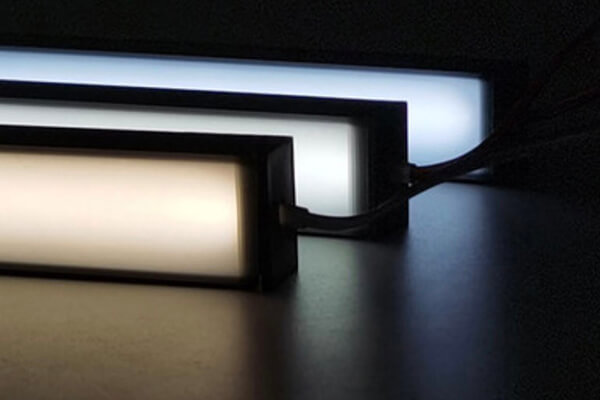 LED channels are becoming popular for both commercial and residential properties. There are many benefits to using LED channels. For instance, they save space and transmit heating.
One of the most common ways to install LED strip lights is with LED profiles. LED strip lights won't be complete without led profiles to offer both protection and heat dissipation. It provides a polished and professional look for your lighting installation as well.
What are the Common LED Channels on the Market?
LED profiles have become so ubiquitous that you'll see them almost everywhere these days. However, they are not all the same. Here are the most common types of LED profiles:
1. Surface Mounted LED Profile
Surface-mounted (U-Shaped) LED profiles are the most common type of LED profile. These are incredibly easy to install and come with mounting clips and end caps.
As general-purpose lighting, surface-mounted LED profiles can be fixed on various surfaces (under kitchen cabinets, ceiling, closets, etc.). The choices in terms of shape and style are endless when it comes to surface-mounted LED profiles.
2. Recessed Mounted LED Channel
Recessed mounted (T-Shaped) LED channels are recessed into the surface for a cleaner and more subtle aesthetic. We mostly use those channels on wood surfaces like on shelves or cabinets. These are mostly just like surface-mounted channels, except they fit into the surface rather than fixing on the top.
To install a recessed mounted LED channel, you have to recess the surface before according to the width of the channel.
Corner-mounted profile light has a perpendicular angle, and they fit in the corner. You may install it in the corner of a wall, ceiling, shelf, cabinet, stairs, etc. Its installation is similar to surface-mounted LED channels, except you have to install it in the corners.
These lights are pretty popular these days as they can light a space pretty efficiently. The light spreads evenly on both the x and y-axis.
Drywall LED channel provides a cleaner finish as this type of LED channel hides all the wires and strips into the wall. However, these may not be simple to install and may even require professional installation with careful planning ahead.
Plastering LED channels into ceilings and walls is more long-lasting, so this is a more permanent lighting setup. These are more common in offices, shops, and other commercial spaces with plasterboard ceilings.
Hanging profile light is a contemporary design of lighting with LED channels. We hang those profile lights from the ceiling with a cable. This type of LED profile is suitable for spaces with very tall roofs so that the suspension would bring lighting closer to the surface.
Hanging LED profiles have become decorative, with many architectures using them in different heights to create attractive lighting centerpieces. However, these are more visible than other types of LED channels.
6. Ring Circular LED Extrusion
Ring Circular LED extrusions are designed in a round shape. Commonly, these are suspended LED channels that hang from the ceiling. This specific type is more decorative than functional, and you'll see it as center lighting in commercial spaces, as well as homes.
It's an ideal option for office conference rooms, heightened atriums in malls and hotels. It can be customized to any diameter required. The lighting direction can be up and down or inside and outside.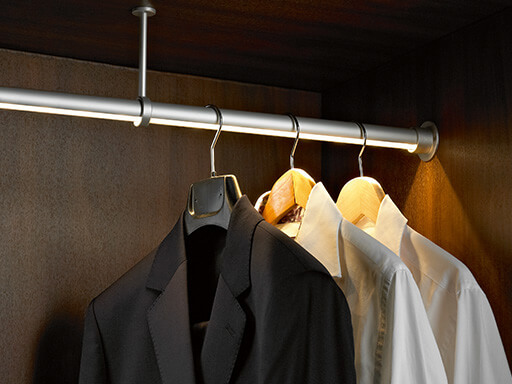 Wardrobe rail led profiles are used in closets as rails. These not only illuminate the closet but also provide a pleasing aesthetic. Also called LED closet rods, you use these just like any other rods to hang clothes, except they glow. These usually have an oval shape and have the diffuser at the bottom of the rod.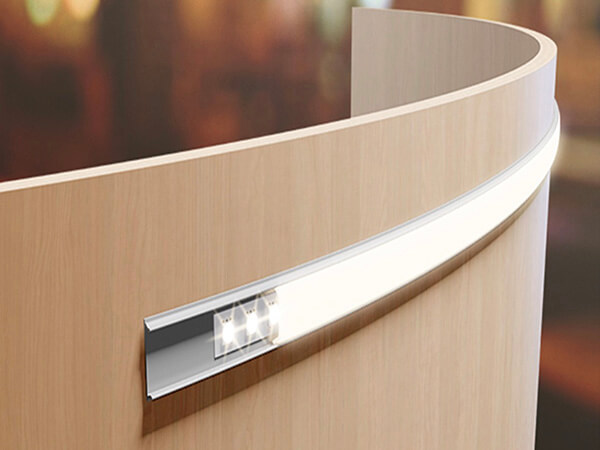 Flexible LED strip profiles are made of thinner aluminum. They can be bent to various shapes. These are ideal for creating curved lighting on different curved surfaces, such as an uneven surface inside the closet or wardrobe. But we can still use them almost anywhere, like other type profiles.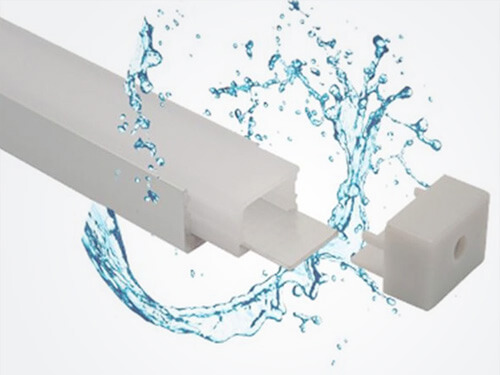 Many LED extrusions are designed to be waterproof. You can find waterproof LED channels for all types of applications, especially outdoor LED extrusion. These ensure that water does not enter the channel and affect the LED strips inside. If you're installing LED channels outside like on a patio or a lawn, you should go for waterproof LED channels.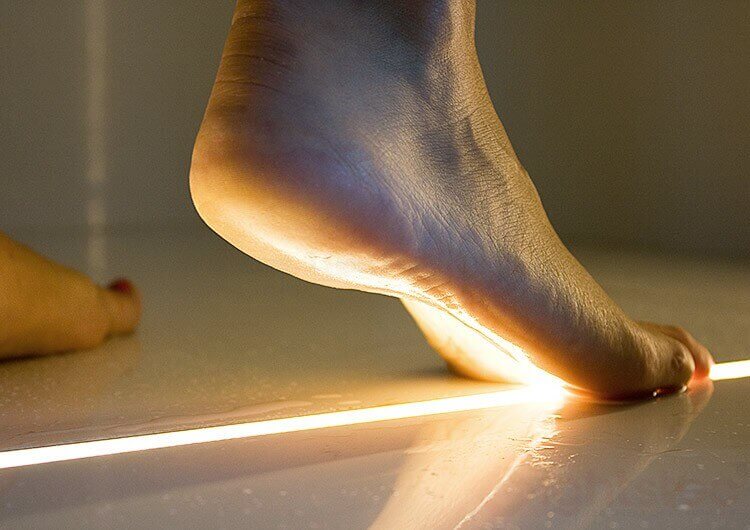 Floor LED Profiles are installed in-ground into the recessed surface. The LED channel in the ground is waterproof as they are more prone to come in contact with water. These are durable because people might step on them. These can serve both functional and decorative purposes. For instance, ground LED channels can be used as an exit guide or used on stairs.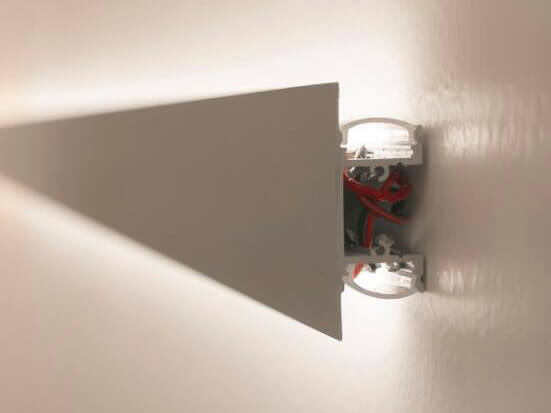 LED profile wall light creates a flush mount linear lighting feature. Similarly, recessed mounted LED channels and plaster-in LED profiles can all be used as wall LED channels. Many interior designers use LED extrusions on both ceilings and walls to create a more balanced lighting profile.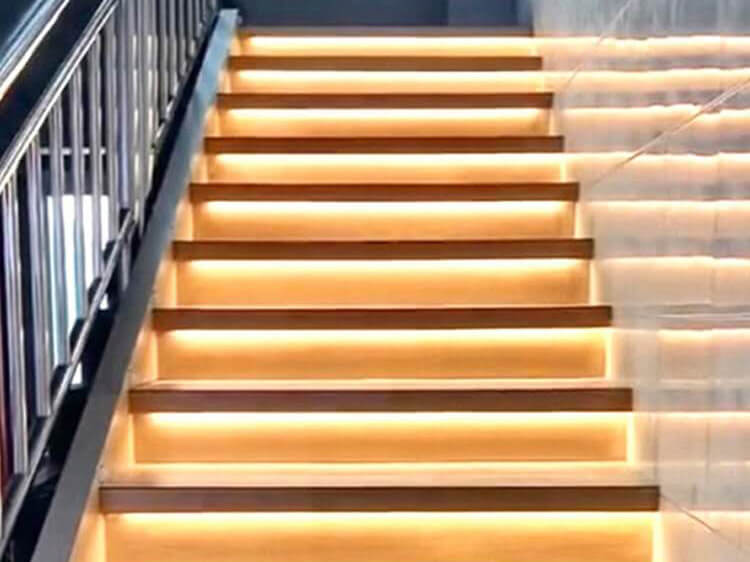 These LED channels are made explicitly for stairs. These may be installed at the tip of the stair or the base of it. Stair LED strip channels come in very handy in spaces with minimalistic lighting or complete darkness, such as a movie theater.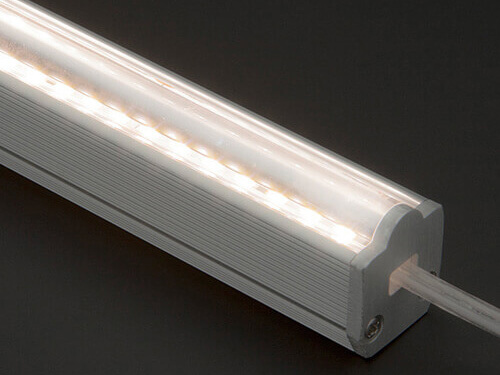 Optics Lens profile light feature optics lens diffuser that converges or diverges light from the LED strips. These are not as common as those with a flat diffuser that distributes light evenly. They can change the luminous angle of the led tape from 120 degrees to 60 degrees or lower, very useful for projects requiring a narrow beam angle.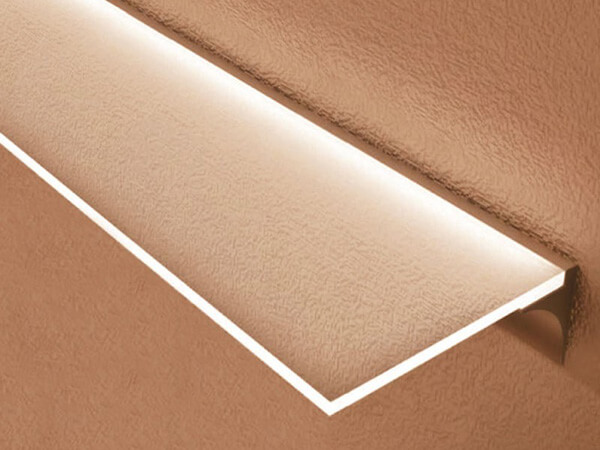 The glass shelf LED profile illuminates the glass shelf mounted within its brackets. It's mostly a surface-mounted aluminum LED channel, but instead of a diffuser, you insert a glass shelf. It adds a decorative aesthetic to the glass as it's edges glow, often with colored LEDs. You can install a glass shelf LED extrusion channel on walls or inside cabinets, improving visibility.
What Types of PC Diffuser Available for LED Channel?
Various diffuser lenses work with the LED profiles to add magical lighting to your lighting projects. These diffusers vary from clear, semi-frosted to opal, or milky designs and black that can diffuse light and eliminate hotspots.
Here we make a comparison of the effects of different diffusers for your better decision, Myledy can provide all the types.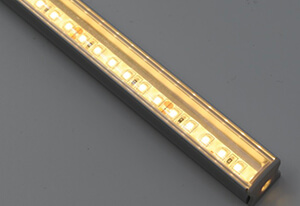 95% transmittance rate
Clear LED strip channel diffuser offers the most optimal light output. However, it may not distribute light evenly in the channel, and the light source may be visible.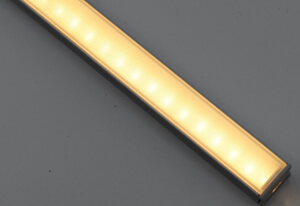 80% transmittance rate
This is the most common type of PC diffuser you'll find for LED lights, including aluminum profiles. They have slightly less transmittance than clear diffusers, but they reduce hotspots significantly.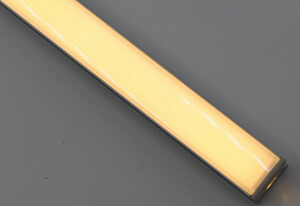 70% transmittance rate
Opal diffuser has sort of a milky white coating that helps diffuse light evenly. It maximizes hot spot reduction while giving you a transmittance rate of 70%.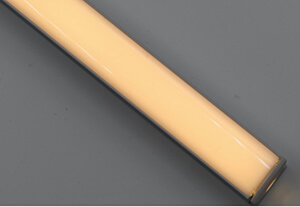 60% transmittance rate
A milky diffuser is more opaque than an opal diffuser and eliminates hotspots. It doesn't really give the max light output, and you may install brighter LED strip for increasing brightness.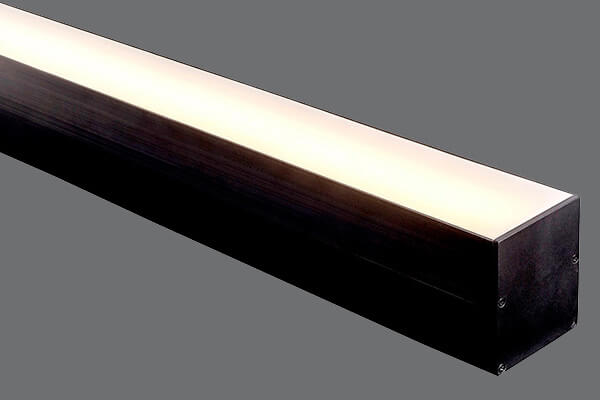 40% transmittance rate
Black PC LED channel diffuser has the lowest transmittance (40%). However, it completely hides the light sources, so the LED channel looks like one single LED channel track.
What are Finishes Available for LED Channel?
Aluminum LED channels come in mostly anodized finishes. Anodization is an electrochemical process that coats an anodic oxide layer that makes it corrosion-resistant, durable, and has a decorative effect. Other finishes include powder coating, paint, and bright dipping, all of which serve as protective and decorative purposes.
You'll find the following three anodized finishes in LED aluminum profiles:
What Material is the Aluminum LED Channels?
An aluminum LED channel system is not just made of aluminum. Some several other parts and materials go into creating LED extrusions. Here are the primary materials you'll find in aluminum LED channels: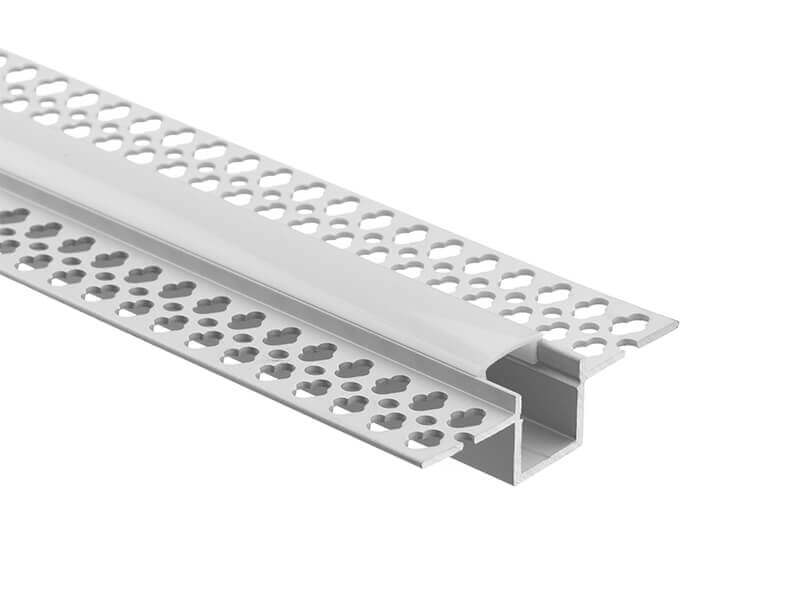 Heat Sink(Aluminum extrusion)
Heat sinks are a vital part of LED lighting structures. While LED lights are known not to heat up, they do produce some heating. They are simply cool to touch, but internally their conductors do produce heat at the expense of light lumens. Heat sinks are made of 6063-T5 aerial aluminum. Their job is to transfer heat to the outside air. Finned heat sinks are the most commonly used in LED lights, including LED extrusions, as they provide more surface area.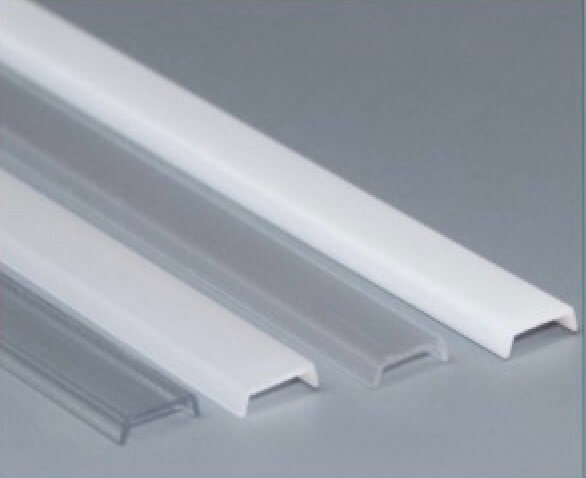 PC Diffuser
Diffusers are mainly made of polycarbonate (PC). For instance, in MyLEDy LED channels, we use Mitsubishi PC from Japan. It's high-quality, durable, and tends to have higher transmittance. No matter what type of PC LED strip diffuser you use, the quality will make or break the whole thing. Low quality plastic will get yellow over time and affect the look of the channel both when lit or switched off.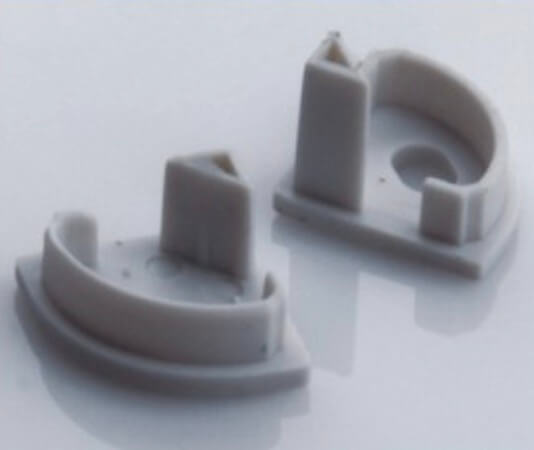 End Caps
Most of end caps are made of plastic, they insulate the LED channels from the openings and have holes in them for the wiring. This cap is also an essential part of the whole LED channel setup as it seals the openings and makes it easy to replace LED strips whenever you need to.
Suspension Cable
For hanging LED channels, you'll also receive suspension cables. This cable attaches to the wall clips and then to the aluminum channel. This cable is sturdy but flexible, typically made of stainless steel too.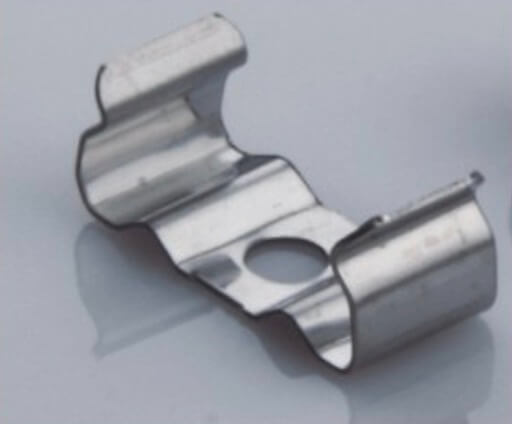 Stainless Steel Clips
The mounting clips for the LED profiles usually made from stainless steel (201/304). These clips hold the aluminum surface on to the primary surface where you're installing the channels. These make installation a breeze as you just have to attach these clips to the surface, and half of the work is complete.
6.Why Choose LED Channel?
LED channels and diffusers for LED tape lighting may seem decorative, but they are quite brilliant. There are several benefits of applying LED profiles instead.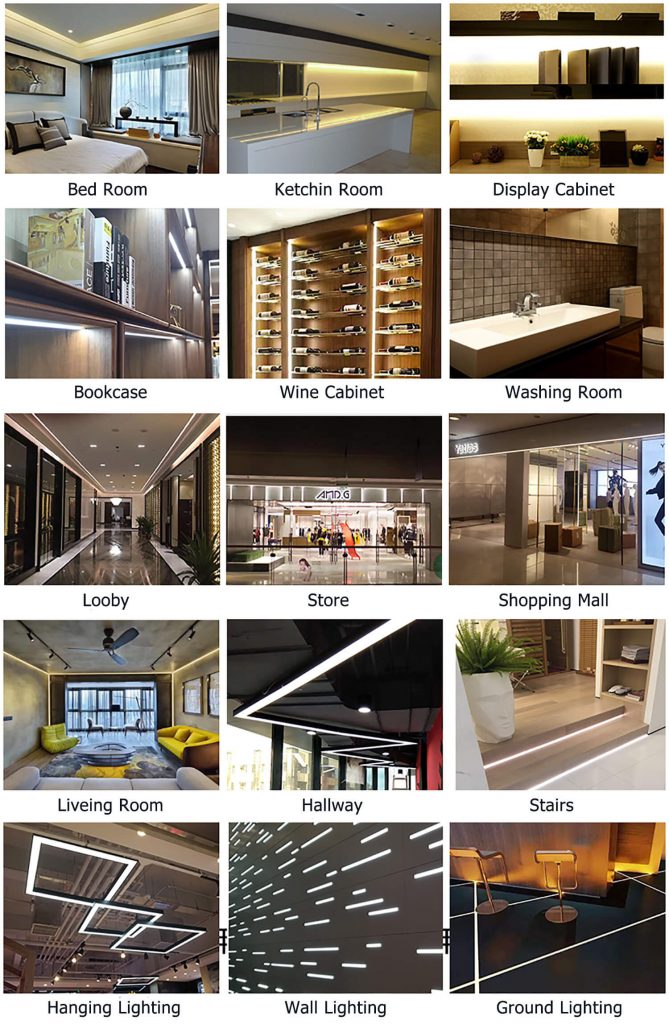 7.How to Select LED Channel for LED Strip Lights?
There are several things to take into consideration when buying LED channels:
The first and foremost thing to determine is the dimension of the LED strip light. While the length depends on your need and you can adjust it easily, it's the width that will decide. You'll have to buy corresponding LED channels.
The LED strips are typically up to half an inch or 10 to 12 cm wide. You'll also need to determine how long a strip you need and get the LED profiles accordingly.
The type of LED channels, especially the diffusers you should go for depending on the lighting effects you need in your space. For instance, if you want to brighten up a room completely, you may want to go with clear diffusers.
If you're just installing LED profiles for decorative purposes, you may want to consider recessed or plaster-in LED channels as they thoroughly blend in with the environment and look a lot neater.
As for the intensity of light, that can be controlled electronically with a lighting controller too. When choosing the type of LED profile light, focus on the aesthetic you want to achieve with the lights.
You should also take into account where you want to install the aluminum channel for LED strip lighting. If you don't need a long continuation of the channels, perhaps hanging LED profiles will be best for you.
Similarly, if you want strip LEDs in your closet, perhaps corner-mounted channels or hanging rack channels should be on your mind. If you're going to brighten up a room completely, go for a combination of roof and wall-mounted LED profiles.
Lastly, think about how you want to mount the LED channels. Do you have recessed surfaces? Do you have a plasterboard ceiling? Or do you want the most effortless installation?
These questions will help you decide which type of LED channel is best for your needs.
8.Why Choose MYLEDY LED Channel?
MyLedy has been producing LED channel solutions for over 15 years. We specialize in LED profiles, providing all materials in high-quality from LED strips to diffusers, and everything in between. All our products are manufactured following strict quality standards in our facility in Dongguan.
Here's why you should choose MyLedy LED channels:
The aluminum LED profile is a great lighting tool that's both energy and space-efficient. You can use them in so many ways, and in virtually any type of space. Whether it's a public space like a school or restaurant or residential space like your living room, LED extrusions can seamlessly elevate the lighting.
The minimalist nature of these lighting fixtures makes them so desirable for modern architecture. Plus, they are so easy to install that anyone can do it. Nevertheless, you can only reap all these benefits if you choose a reliable manufacturer like MYLEDY.