Strip lights are composed of flat, flexible circuit boards mounted by strings of SMD LEDs on their surface. Rope lights are long, cylindrical tubes that also encase a series of LED bulbs. 
Nowadays, more and more individuals, homes, and businesses rely on LEDs. They're safe, energy-efficient, and long-lasting. 
Two of the most common LED products are strip lights and rope lights. In this article, we'll go in-depth into the differences between the two.
1. Strip Lights and Rope Lights - What Are They?
LEDs don't only come in single bulbs. When it comes to creative lighting, both strip and rope lights can be ideal solutions. 
Let's get to know what these two lights are.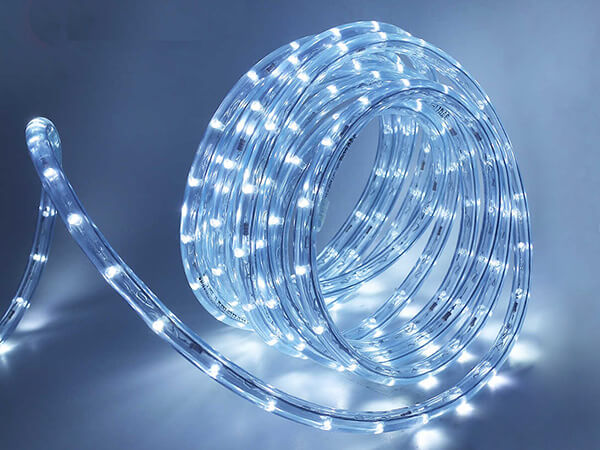 LED Rope Lights
Rope lights are long cylindrical tubes encasing a string of individual light bulbs. The cylindrical tube is made of either plastic, epoxy, or any heat-resistant material. The tube's material is clear and transparent to allow light to shine through it. Since the light they emit is low, people mainly use rope lights for decorations.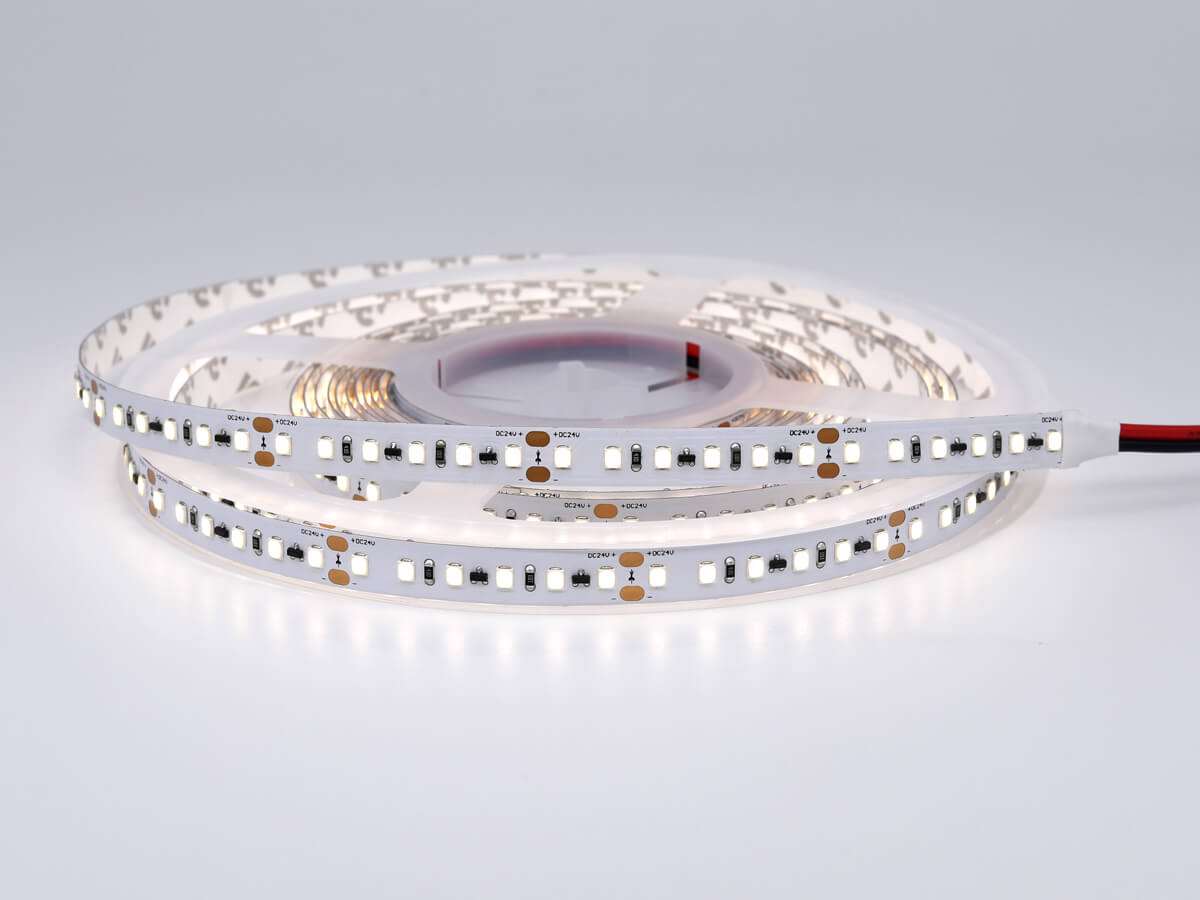 LED Strip Lights
LED strip lights (also known as tape lights) are flat, flexible circuit boards mounted by many individual SMD LEDs. Strip lights have adhesives on their backside, allowing them to stick on a surface. Based on their high luminous, high efficacy and easy to mount, they have many different uses, from mere decorations to practical illumination.
2. Key Differences of LED Strip Light and Rope Light?
Strip and rope lights differ in many ways.
Both light sources boast LED bulbs for better energy efficiency. However, rope lights can also come with incandescent bulbs instead of LEDs. They either have a 120/220vAC or a 12/24vDC power input.
LEDs from strip lights often produce a much better illumination than rope lights. The chips mounted on LED strips come in different sizes. They run mostly on 12/24vDC input.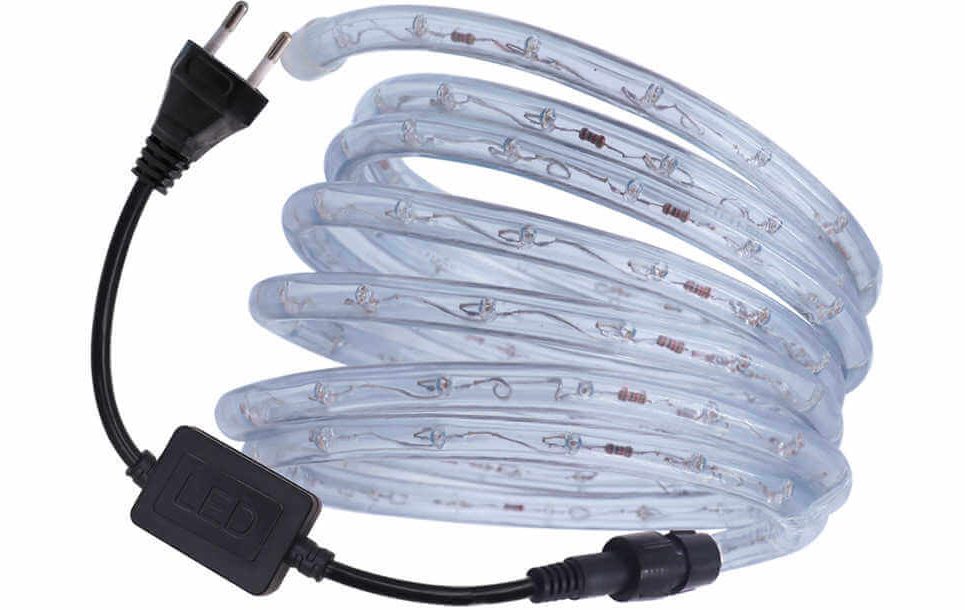 Though rope light tubes are small, they're still thicker than strip lights. The tube can measure between 1 to 2cm in diameter. Their slenderness makes rope lights flexible enough to be placed almost anywhere.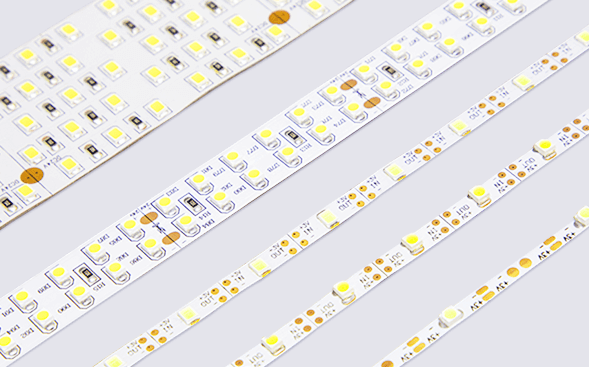 LED Strip lights are much thinner and have a variety of widths. Measuring only 0.5mm thick and 4mm~20mm width to choose, can make single, double and multi lighting rows. This makes them ideal for wider use.
Since rope lights are simpler in function and configuration, they are relatively inexpensive.
The production process of led is more complicated. To make high quality LED strip light, the manufacturer need advanced production equipment, high-quality components and skilled workers which making them costlier than rope lights. Also LED strip can make much more elegant and bright light.
Mounting and Installation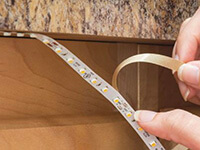 LED tapes have strong adhesives on their backsides. These adhesives can stick to most surfaces and can bond there for a long time.    
Rope lights don't have an adhesive backing but use mounting clips for installation. 
For rope lights, you can choose between various single colors like white, red, green, blue, and many others. Yet, their light colors are not changeable.
LED Strip lights provide more flexibility when it comes to color configuration. You can have options to change their color output such as tunable white, RGB, RGBW, or digital colors.
Light quality varies from company to company, but you'll typically see superior CRI, light purity, color consistency, and color accuracy in LED strip lights.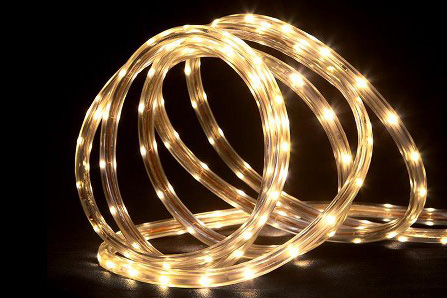 Rope lights can illuminate a much wider angle at 360 degrees. This viewing is due to their ability to be shaped around surfaces and the PVC tube is all clear. A good example would be on those you can wrap around Christmas decor.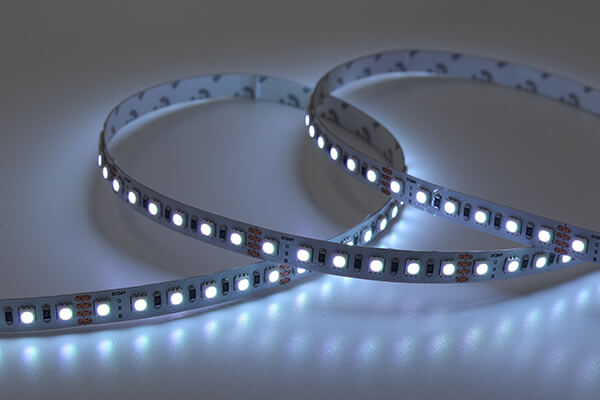 Due to one side is 3M adhesive tape, normally LED strip lights have only 120-degree beam angle, COB LED strip can much to 180-degree beam angle. To create 360-degree lighting with strip lights, you have to install complimentary lighting.
Rope lights emit low lighting, they are unreliable for practical applications. They can't serve as a primary light source and can't be used for activities that require sufficient brightness. 
Strip lights produce brighter, more defined lighting. The bigger the mounted chips, the brighter the LEDs get. Strip lights mounted with 5050 chips will emit brighter lights than ones with 2835. You can also adjust their brightness to fit your needs.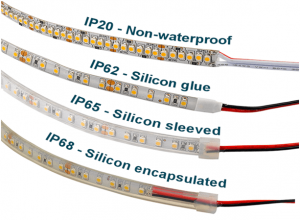 A LEDs IP rating measures its protection against water and objects such as dust and dirt. 
LED Strip lights usually have different IP ratings so you can use them in water-prone areas such as bathrooms, pools, kitchens, and outdoors.  There are different  ways to waterproof strip lighting. 
Rope lights have a rating of IP65, which also makes them resistant to water splash. You can also use them both indoors and outdoors.  
A rope light generally uses flexible PVC tubing with light bulbs spaced evenly on the inside. PVCs have always been affordable materials.
LED strip lights use silicone glue as their casing material. Silicone is resistant to both high and low temperatures. It takes a very long time for it to discolor and turn yellow.
Rope lights, though bendable, don't do well at large bending angles. The rope has internal wiring, which can be damaged if turned too much.
LED Strip lights are more flexible, allowing you to bend them over 90 degrees without breaking. You can attach them even at sharp 90 degree turns, such as wall corners.   
Run Length (Voltage Drop)
Rope lights can be run as long as over 80 meters when used with an AC input. When using a DC input, it can only go around 15 meters before needing additional power input.
LED Strip lights typically come in 12V or 24V DC inputs. The DC version of strip lights can only be run a certain length before voltage drop occurs. The standard length is 5M/reel for most DC 12V/24V strips.
LED rope lights use about 3 watt per meter in power 
LED tape use 4-40 watt per meter, Depends on the requirements of your project. 
LEDs produce less heat compared to traditional lights such as incandescent. However, they can benefit from heat sinks. Heat sinks can dissipate the heat efficiently. There are many LED profiles designed for LED strip lights. You can easily find a suitable one.
On the other hand, due to rope lights' 360-degree illumination, they are not generally equipped with aluminum profiles.
Both of them have countless applications. Choosing between the two depends on the function. Here are ideal places where you can install both lightings. 
3.1  Rope Lights
Because of the fainter light they emit, rope lights are mainly used as decorative fixtures. You can install them both indoors and outdoors, enhancing the visuals of your environment.
3.2  Strip Lights
Like rope lights, there are countless ways that you can get creative with strip lights. You can use them either as decorative fixtures and practical lights. 
Here are some of the best places where you can install them.
Now that you understand their differences, you'll know which one to choose for your project. Whichever you choose, you'd want to make sure to get high-quality options. Myledy offers top-of-the-line LED strip lights. Our extensive collections are not only affordable but also boast the highest quality in terms of performance.