This connector is specially designed for solid glue injected waterproof LED strip lights, It's suitable for ordinary injection molding or extruded IP68 strip lights on the market. It's easy to use and can quickly connect the strip lights without welding and stripping the wire. In addition, transparent design will not affect the lighting.
Hippo NB Series – IP68 LED strip connectors are an excellent and reliable way of joining LED strip to strip or strip to cable.
They are specially designed for solid silicone tube led strip. Simply select the correct size connector, insert the tape and close the connector until it latches. This will make a strong physical and electrical connection ensuring a reliable joint.
Types Of NB Series IP68 LED Strip Connectors: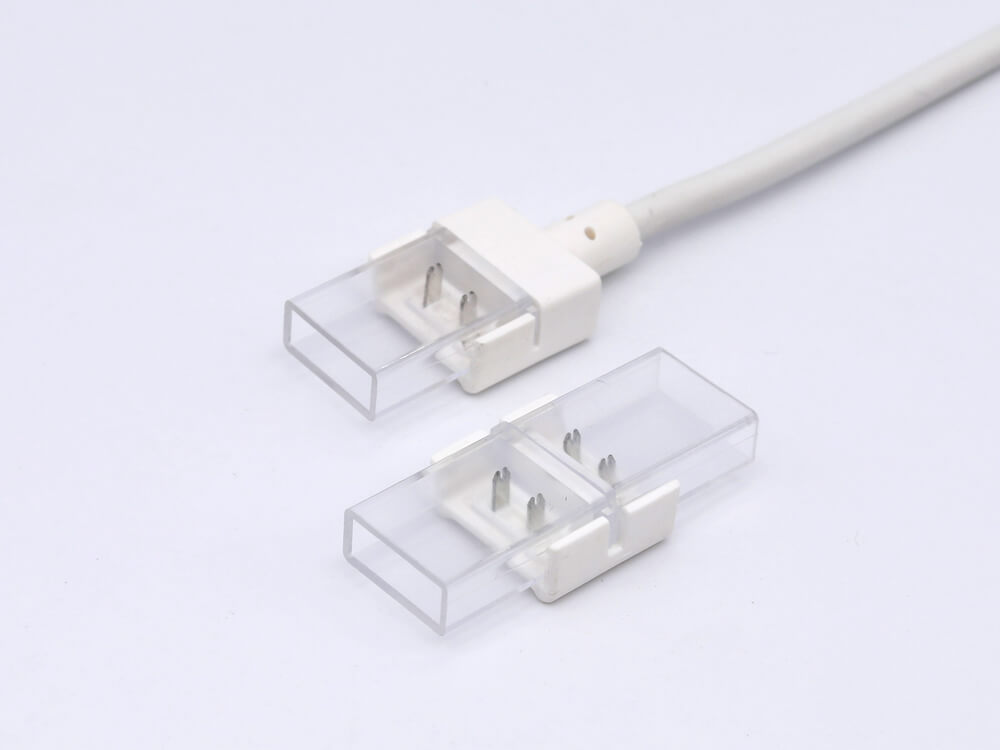 For 2 Pin 8mm PCB, single color, IP68 10mm silicone tube LED strip
Item No.
LD-NB0802
LD-NB0812
LD-NB0822
Joint Type
strip to strip joint
strip to power
strip to strip bridge
Standard Wire Length
/
20cm
20cm
Working Voltage & Current
DC3V~36V 5A
Wire Gauge
2*20AWG / 0.52mm2
Wire OD
Φ 4.0mm
LED Strip Cross Section Size
10*4.6mm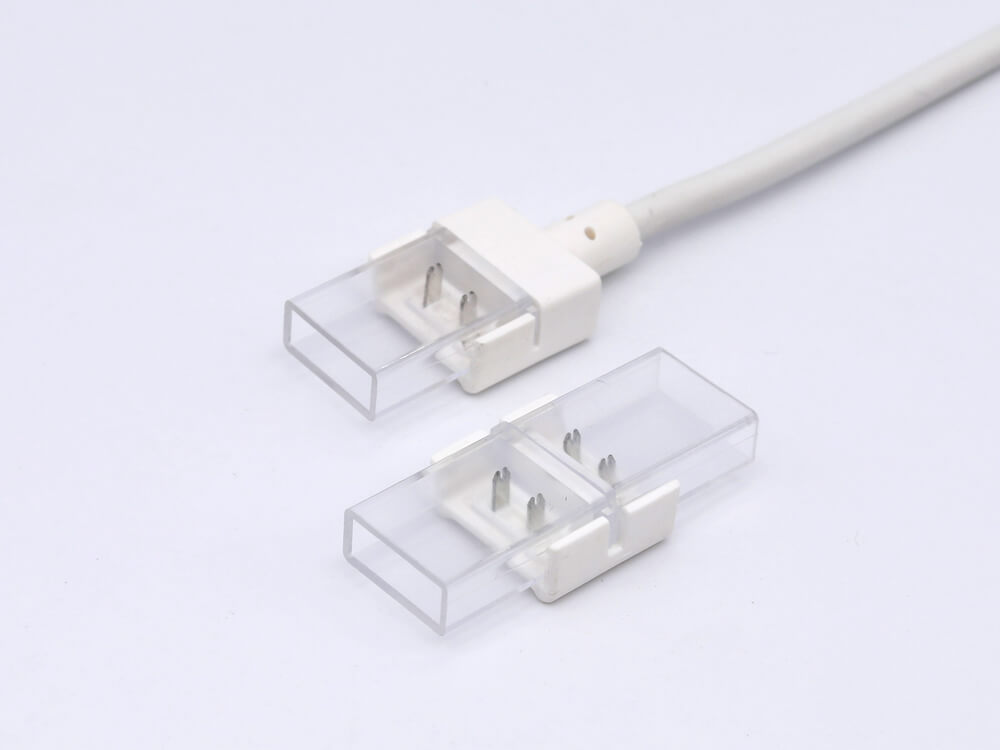 For 2 Pin 10mm PCB, single color, IP68 12mm silicone tube LED strip
Item No.
LD-NB1003
LD-NB1013
LD-NB1023
Joint Type
strip to strip joint
strip to power
strip to strip bridge
Standard Wire Length
/
20cm
20cm
Working Voltage & Current
DC3V~36V 5A
Wire Gauge
2*20AWG / 0.52mm2
Wire OD
Φ 4.0mm
LED Strip Cross Section Size
12*4.6mm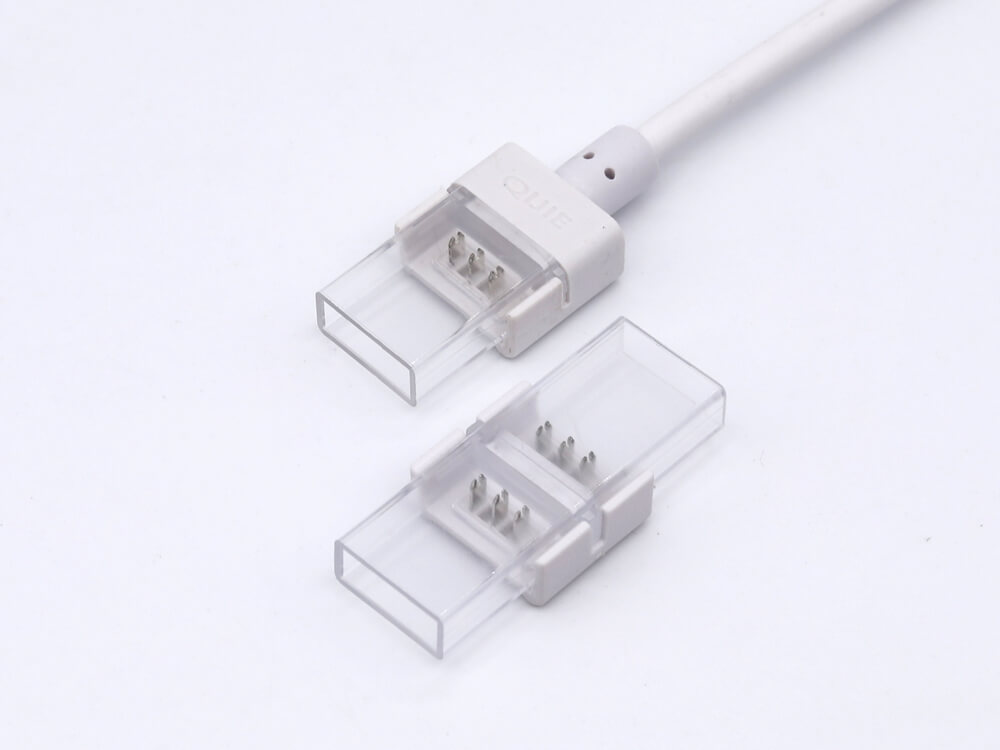 For 3 Pin 10mm PCB, dual white color, IP68 12mm silicone tube LED strip
Item No.
LD-NB1002
LD-NB1012
LD-NB1022
Joint Type
strip to strip joint
strip to power
strip to strip bridge
Standard Wire Length
/
20cm
20cm
Working Voltage & Current
DC3V~36V 5A
Wire Gauge
3*20AWG / 0.52mm2
Wire OD
Φ 4.0mm
LED Strip Cross Section Size
12*4.6mm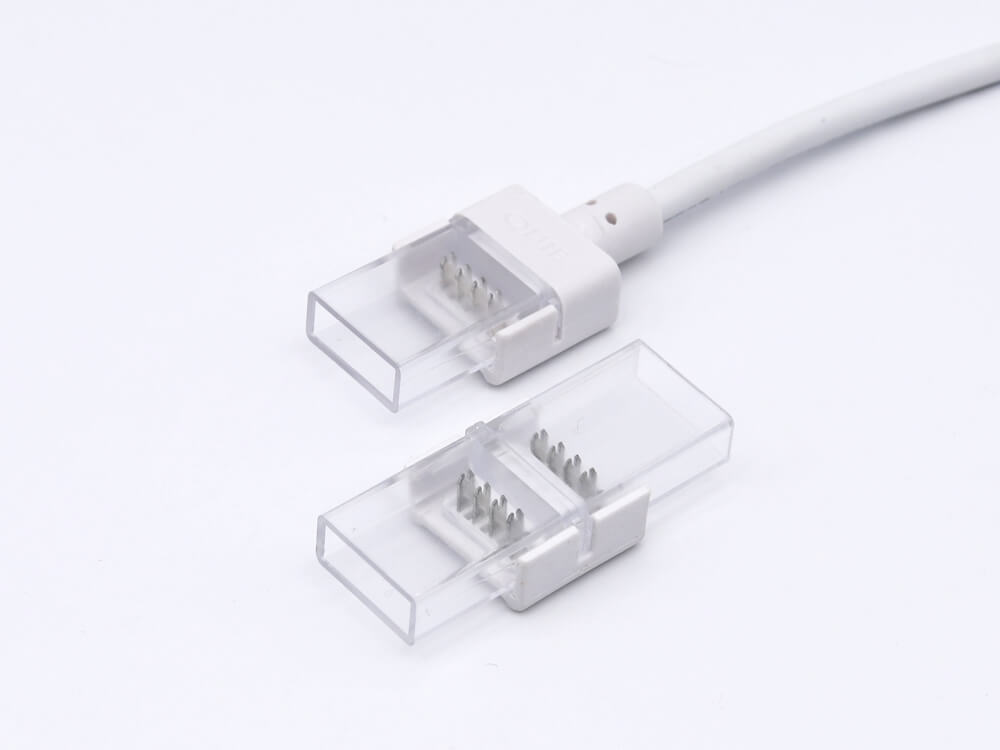 For 4 Pin 10mm PCB, RGB color, IP68 12mm silicone tube LED strip light
Item No.
LD-NB1004
LD-NB1014
LD-NB1024
Joint Type
strip to strip joint
strip to power
strip to strip bridge
Standard Wire Length
/
20cm
20cm
Working Voltage & Current
DC3V~36V 5A
Wire Gauge
4*20AWG / 0.52mm2
Wire OD
Φ 4.0mm
LED Strip Cross Section Size
12*4.6mm