LED strip lights are widely used, in households and offices. But on many occasions, we need to use waterproof strips. Such as in the bathroom, kitchen, outdoor, swimming pool, sauna, and so on.
There are different waterproofing levels for the strip. Do you know how to choose the proper one? This article will tell you the answer. We will also show you how to cut, weld, and install waterproof LED strip lights.
1. what's mean of each value of IP rating?
IP rating shows how well the strip can stand against solids (dust and dirt, etc.) and liquids. It stands for Ingress Protection against such objects.
There are two numbers that determine such a rating.
The first number tells the protection against solids
The second number indicates the same against liquids.
Please, check the below picture for a better understanding: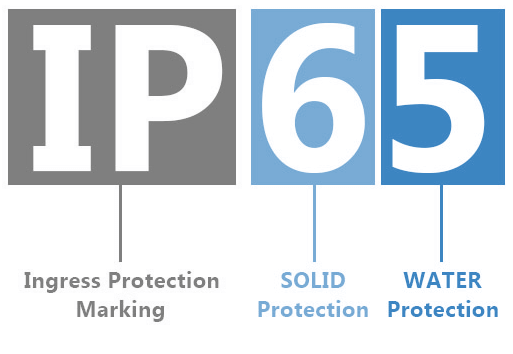 2. When Do We Need Waterproof LED Strips?
We have to confirm the installation location of the strip lights.
A non-waterproof strip is ideal for your bedroom or living room. There is very low chance of exposure to water or fog. Of course, we can also use IP62 or IP65 strips for those areas, as they can effectively prevent dust and help cleaning in the future.
If you want to install the led strip in the kitchen or bathroom, you must use IP62 or IP65 waterproof level strips. It is not necessary to install IP67 or IP68 strips here, unless the location is often sprayed with water.
If you'll install an outdoor LED strip which will be wet by heavy rain for a long time, but it won't be soaked in water. We recommend using an IP67 or IP68 strip.
If you install the strip directly in the water, such as a swimming pool, fish tank. Then we recommend using the IP68 strip with the highest level of protection.
3. What Waterproof Levels do LED Strips Have?
There are different ways for waterproofing the LED strips. Such as adding silicone gel or silicone sleeve to achieve different waterproof levels. Please check details below:
IP62 Silicone Coating
Waterproofing: Adding a layer of silicone coating on top of the strip. It prevents dust and  moisture.
IP62: 6 represents good dust-proof and touch protection, 2 represents good moisture proofing.
Application: Suitable for dry or wet areas, such as the living room, kitchen, bathroom. It's not recommended to use it where water can be splashed.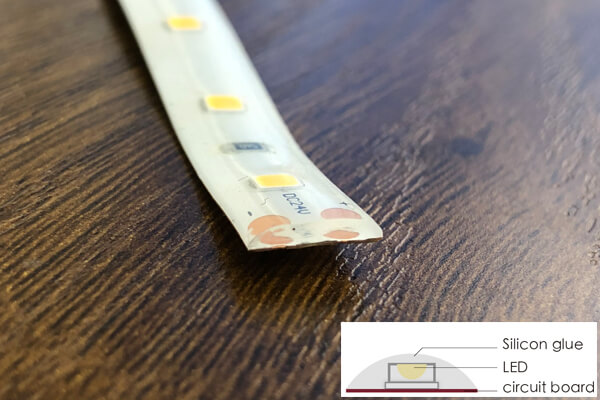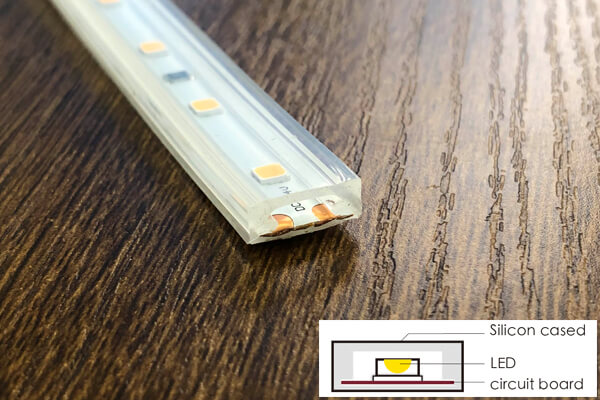 IP65 Silicone Sleeve
Waterproofing:Wrap the strip with a hollow silicone casing. Then seal both ends with silicone end caps.
IP65: 6 represents good dust-proof and touch protection. 5 stands for preventing spraying water from all directions.
Application:Suitable for wet or water splashed areas for e.g. the kitchen, bathroom, eaves. As the casing is hollow, it's not recommended for outdoor use.
IP67 Silicone Sleeve +  Silicone Coating
Waterproofing:Wrap the strip bottom with a U-shaped silicone sleeve. Then add a layer of coating on top of the strip.
IP67: 6 represents good dust-proof and touch protection. 7 represents the ability to withstand a certain intensity of water pressure indefinitely.
Application: suitable for areas that are often invaded by water for e.g. ground, beach, cruise ship. Direct underwater use is not recommended.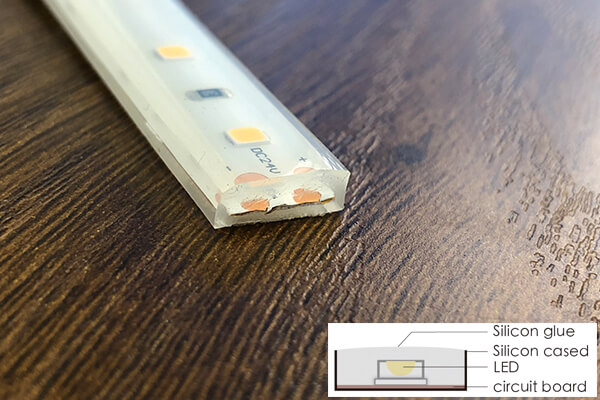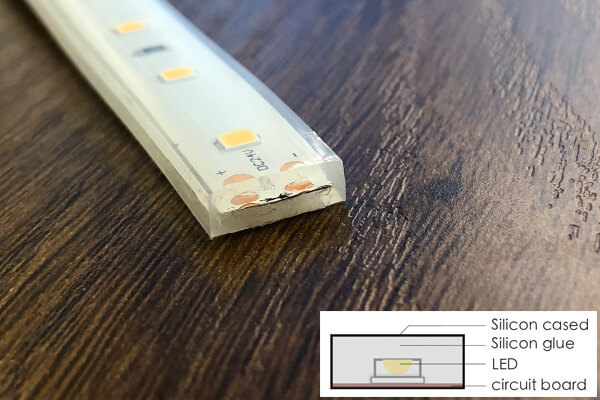 IP68 Silicone Sleeve +  Silicone Injection
Waterproofing:Wrap the strip with hollow silicone casing. Then, fill the hollow casing with silicone to form a sealing effect.
IP68: 6 represents good dust-proof and touch protection. 8 stands for underwater protection against water intrusion.
Application: can be immersed in water, such as swimming pool, fish tank.
4. The Best Material to Make Waterproof LED Strips
When it comes to waterproofing, there are three most popular types of materials:
Epoxy resin
PU glue
Silicone glue
What's their difference? Here is a quick summary:
4.1 Epoxy Resin
Epoxy resin has the advantages of low cost, good maneuverability and low toxicity. So, it's a popular waterproof material for most cheap LED strips in the market. But there's a fatal flaw in its molecular structure.
First of all, its heat conductivity is poor, this will reduce the lifespan of the strip lights. Secondly, epoxy resin is easy to yellowing after half a year, this yellowing will affect the color temperature of the strip lights. Besides, the epoxy resin cannot resist high and low temperatures. It will harden and crack very easily under an ambient temperature below 0°C.
4.2 Polyurethane Glue
The cost of PU glue is higher than epoxy resin. It has better yellowing resistance, low temperature resistance and better thermal conductivity. But it's toxic. When polyurethane adhesive is cured, it will produce some small molecular compounds. These compounds have a very bad smell and are not conducive to health. Secondly, it is not resistant to high temperature. Do not use the strip with PU glue in places where the ambient temperature is higher than 80 ℃.
4.3 Silicone Glue
The cost of silicone glue is the highest. It is an environmentally friendly material and has the advantages of both PU glue and epoxy gel. First of all, the heat resistance and low temperature resistance are very good. The ambient temperature of -50 °~ 300° won't affect its structure and performance. We can rely on Silicon LED strips for saunas and refrigerators. Secondly, the silicone glue will not turn yellow for a long time. This also ensures the long-term stability of the color temperature of the LED strip. It is particularly important for high-end lighting projects such as hotels, yachts, etc. As silicone glue has good thermal conductivity, it promotes the heat dissipation of the LED strip. But, we need to add aluminum channels for high-power (over 20 W) strip lighting for heat control.
 

Epoxy Resin

Polyurethane Glue

Silicone Glue

Cost

Low

High

Highest

Temperature resistance

0-60℃

Harden in low temperature

-40-80℃

Performance remained stable

-40-220℃

Performance remained stable

Heat conductivity

Low

High

High

Yellowing

Obvious after half a year

No

No

Toxicity

Low

High, bad smell

No

Light transmission rate

92%

95%

96%