More Advantages of ND Connectors:
No need stripping wire insulation when splicing flat ribbon cable
No need remove surface coating layer of waterproof strip light
Gripping LED strip very reliably
ND series connectors are an excellent and reliable way of joining LED strip to strip or strip to cable.
Simply select the correct size NL connector, insert the tape and close the connector until it latches. This will make a strong physical and electrical connection ensuring a reliable joint.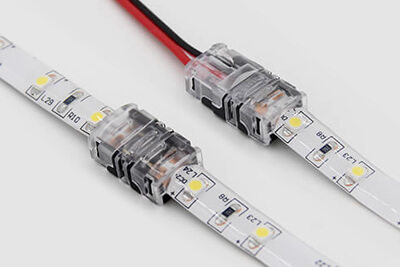 For 8mm PCB, single color, silicone coating LED strip
Item No.
LD-ND0802
LD-ND0812
Joint type
strip to strip joint
strip to wire joing
Wire Length
No wire
Pin pitch
3.6mm
Working voltage
DC3V~24V 
Rated current
5A
Workable wire Gauge
22 -18 AWG
Wire Color 
Red & Black
For 10mm PCB, single color, silicone coating LED strip
Item No.
LD-ND1002
LD-ND1012
Joint type
strip to strip joint
strip to wire joing
Wire Length
No wire
Pin pitch
5mm
Working voltage
DC3V~24V 
Rated current
5A
Workable wire Gauge
22 -18 AWG
Wire Color 
Red & Black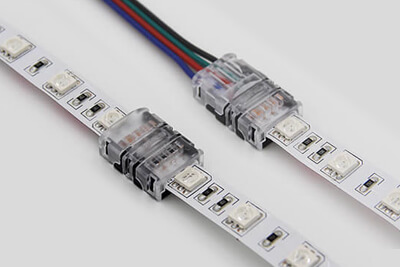 For 10mm PCB, RGB color, silicone coating LED strip
Item No.
LD-ND1004
LD-ND1014
Joint type
strip to strip joint
strip to wire joing
Wire Length
No wire
Pin pitch
2.5mm
Working voltage
DC3V~24V 
Rated current
5A
Workable wire Gauge
22 -18 AWG
Wire Color 
Red & Black